LACERS Active Members February Update
JOIN THE LACERS PENSION SYMPOSIUM TOMORROW AT 9:00 A.M.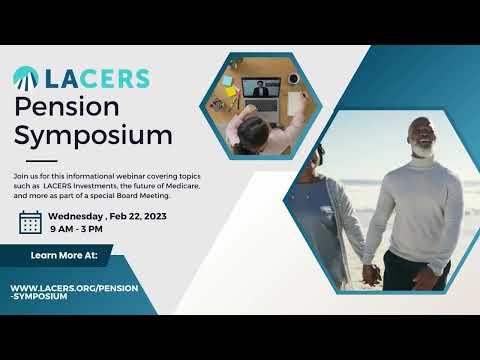 Join us tomorrow, February 22, from 9:00 a.m. – 3:00 p.m. via Zoom for our first virtual Pension Symposium. The 2023 LACERS Pension Symposium will feature a range of speakers presenting on the national perspective of public pensions, risks to public pension funds, aspects of investments, retirement, and LACERS' operations and innovations. For more information on this event, click here.
IN-PERSON PLANNING FOR RETIREMENT SEMINAR MARCH 7
Take a proactive approach toward retirement and attend an upcoming in-person Planning for Retirement Seminar at The California Endowment on Tuesday, March 7 at 9:00 a.m. Complimentary parking and light snacks will be provided.

Space is limited. Register via MyLACERS. Looking for other options? Access our calendar for a full schedule of upcoming seminars.
MULTI-FACTOR AUTHENTICATION NOW AVAILABLE ON MYLACERS
Great news! We've expanded the security of your MyLACERS account. You can now use a Google or Microsoft Authenticator App to satisfy two-factor authentication requirements. Simply sign up for the app on your mobile device to get started.
If you have not created a MyLACERS account, these options will be available to set up during the sign-up process. If you currently have an active account, you can enable/disable this feature at any time through 'Settings' under the 'My Account' tab. If you have questions or require assistance, please contact our Member Service Center at (800) 799-8328.
UPCOMING BOARD OF ADMINISTRATION MEETING
The next meeting will be on Tuesday, February 28, at 10:00 a.m. Click here for more information.
*ADA Statement: Sign Language Interpreters, Communications Access Real-Time Transcription, Assisted Listening Devices, or other auxiliary aids and services may be provided upon request. To ensure availability, you are advised to make your request at least 72 hours before the meeting you wish to attend. Due to difficulties securing Sign Language Interpreters, notice is strongly recommended for five or more business days. For additional information, please contact (800) 779-8328 or RTT (888) 349-3996.