LACERS Retired Members Check-Up 2022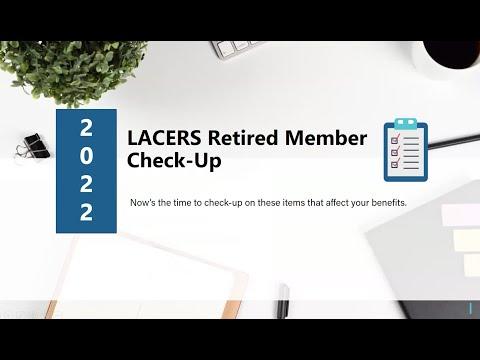 There's no time like the present to review and update your information with LACERS! As we begin 2022, there are some important items you can review to ensure you are on the right track with LACERS. Watch the 2022 LACERS Retired Member Check-Up video, and then select a topic below to learn more about items you should review as a LACERS Member.
Where Will Your Money Go When You Pass Away?
In the event of your death, your accumulated contributions will be paid to any person(s) or entity you nominate by written designation which is filed with LACERS. Therefore, it is important to review your designated beneficiaries on an annual basis to ensure they are accurate. Members can review their beneficiary selections using the MyLACERS account portal and update them by submitting a beneficiary form.
Could Someone Else Manage Your Retirement if You Are Unable to?
What if you experienced an illness, an accident, or another life-changing event that left you unable to sign your own documents or make your own decisions? Who would you want to step in and handle your affairs?
A Power of Attorney (POA) is a legal document that allows you to designate someone to take actions on your behalf and handle your affairs when you are unable to do so yourself. LACERS has a special Durable Power of Attorney which allows you to designate someone to manage your LACERS pension.
What to Know About Aging Into Medicare
Retirees should enroll in Medicare three months prior to turning age 65 in order to qualify for a LACERS medical plan premium subsidy and be eligible for coverage in a LACERS-sponsored medical benefit plan. Retired Members, eligible surviving spouses/domestic partners, and dependents are required, upon turning age 65, to enroll in Medicare Part B. Medicare Part A is only required if it is at no cost to the Member. Learn more on the Aging Into Medicare webpage.
In a world where identity theft and data breaches happen regularly, it is more important than ever to protect your LACERS benefits by keeping your contact information current.
Your home address is one of the most important contacts to keep updated. LACERS will send updates about your retirement and health benefits, tax forms and payment statements, and more to you at your address. If you plan on moving, make sure to update your address with LACERS by submitting a Change of Address Request form. In the near future, Members will also be able to change their address using their MyLACERS account!
Your email address should also be kept current as LACERS sends regular e-blasts and newsletters with useful benefits information. Regularly review your MyLACERS account to change your email address, as well as check your beneficiaries, direct deposit and 1099-R statements.
Knowledge is Power: Fraud Awareness
Fraud is an unfortunate but true reality in our world, and it targets individuals from all walks of life. One way to stay on top of various forms of fraud is by arming yourself with the knowledge to prevent fraud from happening to you! Visit da.lacounty.gov/fraud-alerts to stay on top of fraud occurring in Los Angeles. When it comes to LACERS benefits, one surefire way to reduce the chance of fraudulent activity is to establish a MyLACERS portal account. To get started, request an enrollment PIN on MyLACERS through the "Enroll Now" button. For security purposes, your PIN will be mailed.
A Win-Win With LACERS' Secure Document Upload
LACERS is excited to offer the Secure Document Upload feature on the homepage our website. When you visit the Secure Upload webpage, you can safely and securely submit forms and documents electronically to LACERS. This new option provides increased safety levels for your personal information and ease-of-access.
Explore the Web! LACERS' YouTube Channel and Website
LACERS has resources galore for Members to view and read on the LACERS YouTube channel and the LACERS website. Make sure to take advantage these abundant resources in your spare time!
Check out the 2021 Popular Annual Financial Report!
Did you know LACERS' total investment portfolio is valued at $22,518,983,000 or that 71 is the average age of our retired Members? Learn about more interesting LACERS stats and facts by reviewing our interactive version of the PAFR!