LACERS Retired Members February Update
JOIN THE LACERS PENSION SYMPOSIUM TOMORROW AT 9:00 A.M.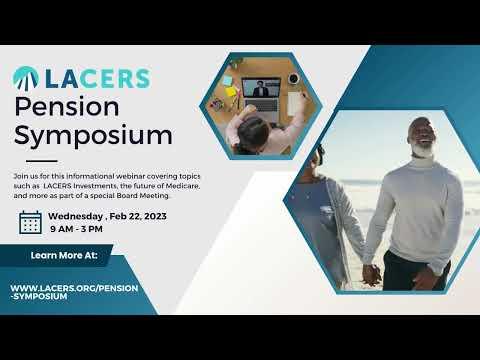 Join us tomorrow, February 22, from 9:00 a.m. – 3:00 p.m. via Zoom for our first virtual Pension Symposium. The 2023 LACERS Pension Symposium will feature a range of speakers presenting on the national perspective of public pensions, risks to public pension funds, aspects of investments, retirement, and LACERS' operations and innovations. For more information on this event, click here.
NEW IRS AND CA STATE TAX WITHHOLDING FORMS FOR 2023
The IRS has created a new Form W-4P (Withholding Certificate for Periodic Pension or Annuity Payments) that will be used for requesting any federal tax withholding changes beginning in 2023. The new Form W-4P is now available for your use. The following is a summary of some of the changes to Form W-4P:
1. You may now select one of the following options:
- Single or Married Filing Separately
- Married Filing Jointly or Qualifying Surviving Spouse
- Head of Household
2. Captures income from multiple jobs/pensions/annuities
3. Claim dependents and other credits
4. Default withholding is now Single with no adjustments
(changed from Married with three (3) allowances)
You may visit your MyLACERS account to view and estimate your tax withholdings. LACERS Members and Beneficiaries who already receive ongoing payments and who do not wish to make changes to their federal tax withholding elections are not required to file a new form; however, it is recommended that you review your withholdings and determine whether an adjustment is necessary. If you live in California and wish to change your state tax withholding election, you will need to submit a separate state tax withholding, Form DE-4P. For more information on new Federal tax withholding forms, please review our Frequently Asked Questions.
UPCOMING BOARD OF ADMINISTRATION MEETING
The next meeting will be on Tuesday, February 28, at 10:00 a.m. Click here for more information.
*ADA Statement: Sign Language Interpreters, Communications Access Real-Time Transcription, Assisted Listening Devices, or other auxiliary aids and services may be provided upon request. To ensure availability, you are advised to make your request at least 72 hours before the meeting you wish to attend. Due to difficulties securing Sign Language Interpreters, notice is strongly recommended for five or more business days. For additional information, please contact (800) 779-8328 or RTT (888) 349-3996.