LACERS Retired Members January Update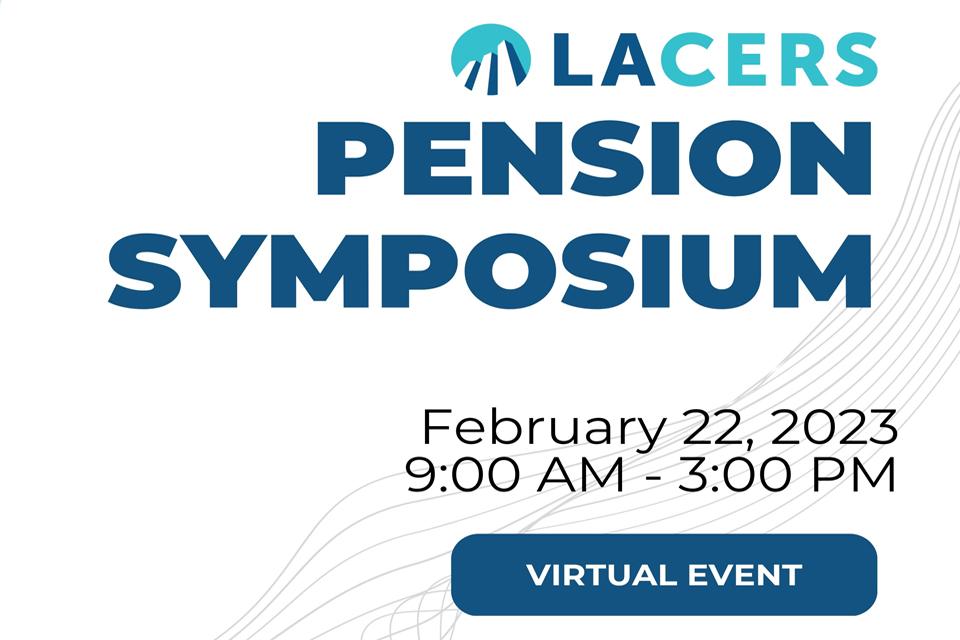 SAVE THE DATE! LACERS PENSION SYMPOSIUM FEBRUARY 22
Join us for our first virtual Pension Symposium on Wednesday, February 22, from 9:00 a.m. – 3:00 p.m. via Zoom. The 2023 LACERS Pension Symposium will feature a range of speakers presenting on the national perspective of public pensions, risks to public pension funds, aspects of investments, retirement, and LACERS operations and innovations. For more information on this event, click here.
LACERS 1099-Rs AVAILABLE
View your 1099-R for the 2022 tax year via your MyLACERS online account now. Additionally, LACERS is mailing 1099-R tax documents to retirees and beneficiaries. Please note that 1099-Rs are only sent to the address on file with LACERS. If you have recently changed your address, please update it with LACERS by submitting a Change of Address form, or you may contact us to request one be mailed to you.
If you do not receive your 1099-R by February 15, please contact LACERS for a duplicate to be mailed to you.
NEW IRS AND CA STATE TAX WITHHOLDING FORMS FOR 2023
The IRS released a revised Form W-4P (Withholding Certificate for Periodic Pension or Annuity Payments) effective January 2023, which includes substantial changes to the federal tax withholding elections available, as well as changes to the calculation LACERS performs to determine the amount to be withheld.
A significant change to the Form W-4P is that filers will no longer be able to adjust their withholding by electing a specific number of withholding allowances. The IRS now offers new input fields for increasing or decreasing the amount to withhold, including fields for tax credits and deductions. LACERS' Members and beneficiaries who already receive ongoing payments and who do not wish to make changes to their federal tax withholding elections are not required to file a new form; however, all are encouraged to review their withholdings and determine whether an adjustment is necessary. The new Form W-4P is now available.
You may visit your MyLACERS account to view and estimate your tax withholdings. If you live in California and wish to change your state tax withholding election, you will need to submit a separate state tax withholding, Form DE-4P. LACERS is not authorized to provide tax advice. We recommend reviewing our Frequently Asked Questions and speaking to a tax professional.
2022 POPULAR ANNUAL FINANCIAL REPORT
The Popular Annual Financial Report (PAFR) is now available for the fiscal year ended June 30, 2022. LACERS provides this report annually to showcase our financial position, accomplishments, and activities.
ANTHEM'S MEDICARE PREFERRED PPO (MEDICARE ADVANTAGE) SURVEY
If your current medical plan is the Anthem Medicare Preferred (PPO) plan, please kindly take a few minutes to fill out Anthem's Medicare Preferred (PPO) survey to provide feedback regarding the plan's service and benefits. This survey will also be on the LACERS-Anthem microsite. You can access this survey on your computer and phone. A postcard will be sent by the end of January or the first week of February as a friendly reminder for subscribers to provide their feedback in the online survey. The survey closes Friday, February 17, 2023.
UPCOMING BOARD OF ADMINISTRATION MEETING
The next meeting will be on Tuesday, January 24, at 10:00 a.m. Click here for more information.
*ADA Statement: Sign Language Interpreters, Communications Access Real-Time Transcription, Assisted Listening Devices, or other auxiliary aids and services may be provided upon request. To ensure availability, you are advised to make your request at least 72 hours before the meeting you wish to attend. Due to difficulties securing Sign Language Interpreters, notice is strongly recommended for five or more business days. For additional information, please contact (800) 779-8328 or RTT (888) 349-3996.