Retiree March 2020 Paycheck Flyer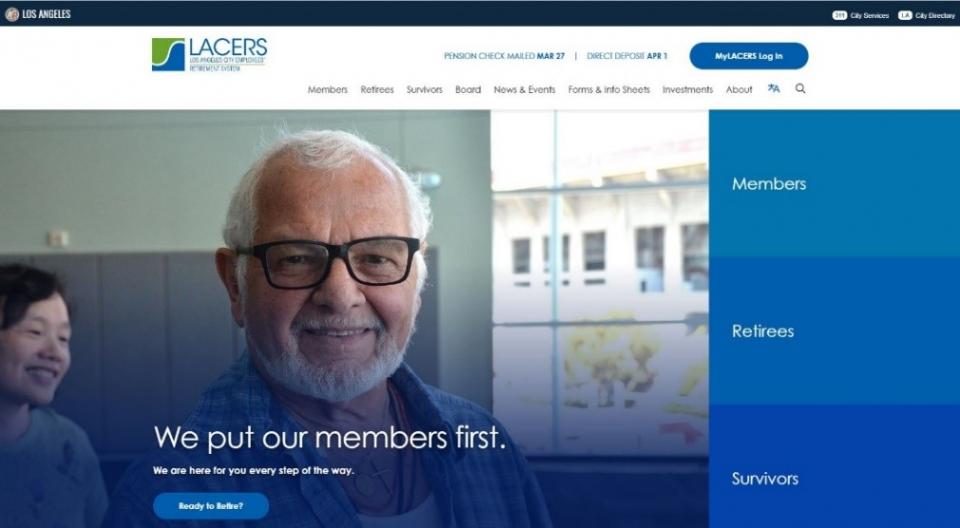 Announcing: Our Newly Redesigned Website
We are excited to share that https://www.LACERS.org now offers a fresh look along with easier navigation to serve as the one-stop destination for LACERS news, events, and membership information. If you haven't had a chance just yet, we invite you to visit our new website today and experience the difference.
Aging Mastery Program Workshops Postponed
Due to concerns regarding the Coronavirus Disease (COVID-19), LACERS has decided to postpone the Aging Mastery Program workshops until later this year. We are very excited to bring you this program and are disappointed that we will be rescheduling the workshops, but your health is our primary concern. We want to make sure everyone feels comfortable and safe over the five-week program and realize that the best way to achieve that is by holding the workshops at another time. We apologize for any inconvenience this has caused.
New Security Feature Coming to MyLACERS in May
LACERS continually works to find more ways to protect your personal information and is adding a new security feature to all MyLACERS accounts in May. Once implemented, this new "Two-Step Verification" feature will require you to program a verification code to be automatically sent to you either via text message or email when logging in to your MyLACERS account on an unregistered device. Stayed tuned for more information in the coming month on this exciting new feature.
As a covered entity under Title II of the Americans with Disabilities Act, the City of Los Angeles does not discriminate on the basis of disability and, upon request will provide reasonable accommodations to ensure equal access to its programs
services and activities.