Financial & Fitness Summit Event
Almansor Court in Alhambra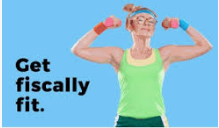 Invest in you. The greatest wealth is our health. Join us for a Financial and Fitness Summit Event on Thursday, July 13 from 9-2pm at the Almansor Court located at 700 S. Almansor St., Alhambra, CA 91801. A light breakfast and plated lunch will be served. Invite a guest to attend with you. Opportunity drawings will take place during the event. Space is limited. Register now!
This event will cover both financial and fitness topics. Come and enjoy a day full of valuable information, socialize with your LACERS retiree friends and family and get ready to "Train your Mind and Move your Body". The fitness portion of the event will involve movement, so be sure to dress comfortably for exercise demonstrations.
Financial Topics presented by Randy Miller:
Understand personal finances as they relate to aging.
Learn the importance of assessing your financial situation and setting financial goals.
Understand the need for scam protection and setting financial boundaries.
Identify and optimize available financial assets to get the most out of them.
Fitness Topics presented by Sean Foy:
Discover how to get fit and stay fit-in just minutes a day
Uncover Simple Steps to boost your Mood, Motivation and Metabolism
Experience a younger, stronger you through the Power of PLAY
Realize how to make aerobics, strengthening, flexibility, & balance training-simple
Learn how to get fit and stay fit, anytime, anywhere
Unearth your inner fitness-reducing stress with meditation and mindfulness
Uncover how to daily invest in your greatest asset-YOU!
Registration: You can register online through your MyLACERS account or by calling LACERS at (800) 779-8328, RTT (888) 349-3996. If you need assistance with registration, you may send an email to LacersWell@lacers.org. You will receive confirmation of your registration via email one week prior to the event date.
​Live Stream Option: If you cannot attend in-person, you may participate virtually as this event will be live-streamed via Zoom. Registration is not required if you plan to attend virtually. However, you will need to send an email to lacerswell@lacers.org to request the Zoom information.